Having a hobby is good for you in many ways, and custom woodworking has many additional benefits. The creative process will allow you to make attractive items for yourself and others. Whether you are interested in creating smaller designs or want to build larger items like furniture, you can enjoy your time working with wood.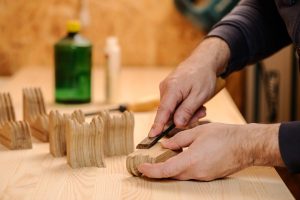 If you are new to custom woodworking, you should focus your efforts on skill building. Practice making perfect measurements and cuts. Get a feel for using different grits of sandpaper on hardwood and softwoods. By honing your skills, you will be able to craft higher quality items.
Generally speaking, you get what you pay for when it comes to tools. You should purchase the best quality that you can afford for the most important items in your shop. If you have a cheap saw, it can ruin a good cut of wood and the appearance of your final project. The investment in your tools is a priority for success.
Before you undertake any project, you should make sure that you have all of the supplies that you will need. In addition to the building materials, you will need a way to finish the final project. Many customized pieces have additional considerations that should be addressed while you are preparing for your project.
Review the instructions for clarity as well. Make sure that you understand each step of the process. If you don't understand a particular technique, watch a video or find a step-by-step instructional that will explain the method in greater detail. Doing this will prevent unwanted surprises down the line that could diminish the final product.
When making customized pieces for people, make sure that you plan properly for what you can deliver. For instance, you might decide to make personalized doll cribs. You could add the name of the child or a nickname to the piece. In this case, each one will be about the same amount of effort.
However, if you have too many extras and options with a piece that will add extensive time to the original job, you should calculate the time and price accordingly. Practice timing yourself if necessary to ensure you have a good grasp of how long you spend on various tasks related to your customized woodworking endeavors. Don't forget about the time spend shopping, setting up and cleaning your woodworking area if you intend to use it as a business.
For those who intend to sell their woodworking projects, it is important that you file the appropriate paperwork with the government. From obtaining a business license to filing taxes, adhere to the legal requirements of your business to avoid hassles down the line.
You can have a great time in your shop by making gorgeous items from wood. Engaging in creative endeavors is good for your mental and emotional health. On top of that, you can make some extra money from your customized pieces. No matter what your plans, have a good time working with wood and always use protective gear!