Are you interested in creating unique decorations for yourself or others utilizing recycled materials? Do you want to find pallet wood projects that you can undertake to make home decor items for yourself, as gifts or even to sell? If so, there are many fun ways that you can use old pallets.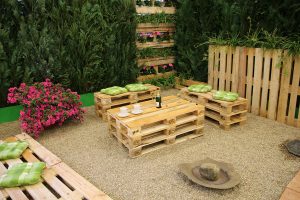 The final quality of your pallet wood projects will depend on several factors, including the source. Don't waste your time trying to source pallets from large chain stores in your community. Instead, focus on smaller retail establishments and the internet for finding pallets with plenty of usabilities left in them. Larger stores usually participate in pallet recycling programs whereas smaller retailers can struggle with having too many.
You should establish a relationship with local stores that are likely to have pallets. Doing so will give you first dibs when they have extras. Additionally, the managers will get an idea of the other types of items you might find useful that are otherwise headed for the dumpster. Cultivating these relationships will help you build a network for sourcing free materials for all kinds of home decor and art projects!
In addition to being sure that you have sourced the pallets smartly, you will want to have clear instructions for any project that you are considering. You can find many different ones online, some of them with pictures. Make sure that you read through the directions and that you understand each step before you begin. That way, you can clarify any questions prior to investing your time in a project with incomplete instructions.
If you are interested in growing some of your own foods, then you might want to transform one or more pallets into a vertical garden. You can plant herbs, strawberries and other plants that require a minimal amount of root space. For those who aren't interested in a food garden, imagine a lovely wildflower garden blooming in your pallet board planter!
You can also use pallets to create planters for your patio or porch. Stackable rectangle designs with varying plants can add a touch of rustic beauty to your outdoor living area. Always make sure that the plants will have sufficient root space once mature to prevent frustration down the line.
While plants are a great addition to your home, there are plenty of projects using pallets that don't require any greenery. For instance, you could construct a knick-knack shelf or one for books. Use creative configurations to combine both elements into one attractive shelving design that you can be proud of making!
Working with wood to create something functional and aesthetically pleasing is a rewarding hobby to undertake. You can decorate your own home with the things that you make or share the beauty with others. Either way, these suggestions for sourcing and starting your first projects will get you started down the right path. Continue to explore new and exciting ideas for your woodworking projects for plenty of fun!